Returning to the roots of Full Figure Plus I bring to you Chic Star a collection of trendy clothes with a vintage feel.  I cannot say plus-size entirely in relation to this merchant because that would not be true.  What I can say is that if you are looking for classic looking clothes that remind you of days gone by without looking dated then you for sure should check them out.
What I liked the most about the website was the easy navigation and the programs for shoppers to submit designs for a chance to win $1000 and submitting photos of yourself in products you buy for store credit and the chance to win some cash.
The polka dot dress in the photo is an example of some of the designs submitted to Chic Star that went into full productions.  Full Figure Plus is a supporter of the independent designer and I like to see the fruit of someones work get out to the world for all to see.
As far as this website is concerned plus-size starts above a size 18.  What does that mean for you?  That means petit-plus size ladies from size 12-18 can shop to their hearts desire even though the website is not plus-size specific.  For sizes over 18 there is still plenty to choose from based on the items you see listed below.
Every website I look at like this always has one interesting feature about it.  For Chic Star it is the design auction area.  In this area wholesale customers submit their own design and have 100 pieces minimum produced.  For the designer starting out this is a sure fire way of getting your foot in the door.  For the rest of you that just want to shop the prices are great!  Under $50 in many cases.  Additionally, there is a forum area to discuss different items on the website.  If you have never heard of Chic Star you need to add this site to your shopping list and maybe even submit a design to fulfill your fashion dreams.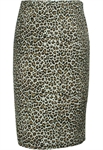 Leopard Plus-Size Leopard Retro Urban Pencil Skirt – $ 32.95

Black Plus-Size Flounce Ruched Ruffle Belt Shirt – $ 39.95

Black Plus-Size Gothic Lace Corset Velvet Jacket – $ 65.95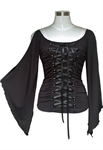 Black Stretchy Lace-Up Gothic Corset Jersey Top – $ 29.95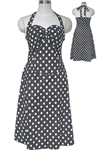 Black Plus-Size Rockabilly Polka-Dot Halter Dress – $ 39.95

About Chic Star
Chic Star was built from a desire to create fashion clothing collections with a new, refreshing look for young women. Realizing the individuality of the customers, we offer fashion inspired by the tastes, wishes and lifestyles of today's people to be sold in clothing stores everywhere. We are constantly searching for the best quality fabrics in order to offer a wide array of colors and designs, while providing the latest trends in international fashion (whether it's workplace or special occasion dresses among other articles of clothing) in an environment of thought-out design and the best value for the customers.